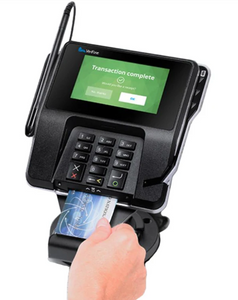 Verifone's MX 915 delivers a rich visual experience with a brilliant color display. This elegantly designed, sleek and space-saving unit is NFC/contactless-enabled so can accept all payment options including swipe, chip and ApplePay and GooglePay. The Verifone MX 915 can be used in tandem with iPad checkout and desktop checkout to create a secure, smart, point of sale (POS) system.

Requires ethernet cable connection
Large color screen efficiently accommodates optional signature capture
Offer your clients flexible payment options; accept chip card (EMV), swipe and NFC/contactless payments
ApplePay and GooglePay enabled
Tips are entered by the client on the device at checkout
Digital signature. No printed receipt for signature is required
Completely secure, encrypted, tamper resistant security.
Quick and easy set up.