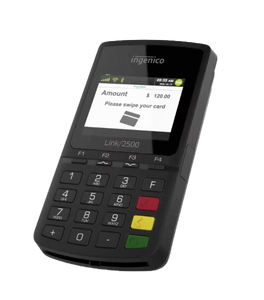 The Ingenico Link/2500 is Wi-Fi and Bluetooth enabled for a complete mobile point-of-sale solution allowing you to move throughout the salon. Designed from the ground up for all-purpose mobile use, the Link 2500 can be used in tandem with iPad and desktop checkout to create a secure, smart, mobile payment experience.  
Bright 2.4'' color display, a real mechanical keypad and a USB-C connector which can be plugged upside down.

 

Accept all payment methods including chip card (EMV), swipe, and contactless payments.

 
Long-lasting battery that charges to full capacity in 4 hours, gets you through the day. 

 

Fully charged battery can run 450 transactions or remain in sleep mode for 150 hours. 

 

Tips are entered by the client on the device at checkout.

 

Completely secure, encrypted, tamper resistant mobile card reader.

 

Quick and easy set up.